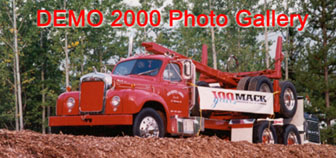 Demo 2000 was held near Kelowna, British Columbia, Canada. Thanks to Skylead Logging Equipment corp. we were able to show our Radio Controlled Chokers in action, and of course they were flawless. Our display also included the Skylead C-40 16000 Series Yarder, Maki II carriage, Hyundai 210LC3 Excavator, and a Waratah HTH 20 Processor head.
The plot of land we were logging is what is referred to as the logging road. The width of the road was approximately 300ft, and from top to bottom it was about 600 ft. The series of pictures below shows some of the equipment we were using in action. Click on the small images for a larger picture.
We look forward to the next DEMO show as this was a big success for our company.


| | |
| --- | --- |
| | |
| Our sign showing the equipment being demonstrated | Radio Controlled Chokers "set" around some logs |
| | |
| At the landing with Bill Varner and Harold | Marilyn Bertram cuts a log using the Waratah processor head |
| | |
| What is referred to as the logging road | Chokerman, Randy and Harold calling for slack... |
| | |
| An intermediate support, used to achieve deflection | Running with the slack to the nearest log |
| | |
| Typical crowd watching the show | Photo at dusk, near DEMO 2000 |
---
Johnson Industries Ltd. - 6500 Dennett Place - Delta, B.C. - Canada - V4G 1N4 - Tel.:(604) 940 4555 - Fax.:(604) 940 4565
---