!ALL PAGES IN THIS HTML DOCUMENT COPYRIGHT (c) 2005 - 2006 JOHNSON INDUSTRIES LTD.> <!ANY DUPLICATION OF THIS WEB PAGE STRICTLY PROHIBITED>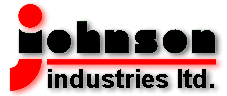 Manufacturers and Designers of Quality Logging Equipment and
the "Original" manufacturer of "Radio Controlled Chokers"

Welcome to our home page!
Spanish or German brochures are available in the download section



| | |
| --- | --- |
| | Our smallest RCC - only 4 lb! |
| | Mechanical slack pulling carriages |
| | Yarding Grapples, many sizes available! |
Please note, we no longer distribute Koller Yarders or Koller Parts,
please contact Miller Timber for all of your inquiries.


Comments or questions send us an E-mail...
Did you know Johnson Industries Ltd. also manufactures brakes for Logging Yarders?

---
Johnson Industries Ltd. - 6500 Dennett Place - Delta, B.C. - Canada - V4G 1N4 - Tel.:(604) 940 4555 - Fax.:(604) 940 4565
---
All webpages COPYRIGHT © 2007 / 2008 Johnson Industries Ltd. - last updated 20/02/2006